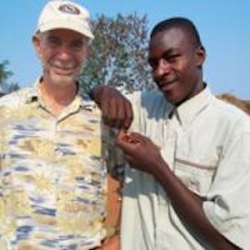 Graduate Admissions Coordinator
Phone: (415) 405–0536
Email: biella@sfsu.edu
Location: FA 535
Book Appointment:
Peter Biella Virtual Office Hours - Drop in is OK, but please make an appointment in advance
HOURS: Monday 3:30 to 5 p.m., Thursday 9 to 10:30 a.m. AND OTHER TIMES BY APPOINTMENT
Biography
View Textiles in Ayacucho
       Directed by Peter Biella
       Produced by Mary Strong
Ph.D. Temple University, 1984
Interests: Visual Anthropology, Multimedia and Education, Epistemology, Theories of Ideology, East African Pastoralism
I teach courses in visual anthropology, concentrating particularly on the applied use of media in medical contexts and development. My interests also include the advancement of multimedia ethnography, particularly the integration of time-based media with text. My current interests include the development of a Field School for Applied Visual Anthropology in Tanzania. In the summer of 2009, graduate students and I will work there, for our second year, in the production of intervention media on Maasai HIV and civil rights. I am also interested in the use of film in nonlinear, poetic directions, and will be shooting such a film in a Romanianian village, with a graduate student and Department Chair Douglass Bailey, in the Spring of 2009.
Background
A B.A. and M.A. graduate of SF State, I worked here in the 1970s with John, Collier, Jr., one of the founders of Visual Anthropology. I went on to earn a Ph.D. in cultural anthropology at Temple University, where I continued to concentrate on visual media. My early fieldwork focused on Maasai, with whom I resumed contact and filmed in Tanzania in 2007 and '08. I have also produced many films in Spanish, shot in Central America, Mexico and Peru, including two that have been aired on PBS. My recent film on textiles in Ayacucho, Peru, has won a number of international awards. I am one of the early advocates of the field of applied visual anthropology, as well as the first anthropological theoretician of interactive ethnographic media. A past president of the Society for Visual Anthropology, I remain on the Board of Directors of this section of the American Anthropological Association. I am currently expanding my graduate courses, and looking forward to taking graduate students in applied visual anthropology to Tanzania over the next few years.
Publications
My most recent essay concerns my 2008 collaboration with two Tanzanian NGOs in the production of educational films for the capital city's migrant Maasai population. Other recent works discuss how visual anthropology can be a force against racism and imperialism. I have recently completed an autoethnographic book and interactive DVD in which I reflect on audiovisual recordings that I made of my Maasai fieldwork in Tanzania thirty years ago. Other publications include a collaboration with Gary Seaman and Napoleon Chagnon in an interactive analysis of the film The Ax Fight (shot and edited by Timothy Asch). My interest in post-structuralist narrative theory led me to write an essay on the deep structure of a 1955 Perry Mason novel, likening the famous lawyer detective's method of truth finding with the strategies of cultural anthropologists in the field. I shot four films during my sabbatical in 2007-8, two in Tanzania, one in San Francisco, and one in a non-stop 19 hour blitz in the Arctic Circle with ethnographic filmmaker Len Kamerling. See many of my publications and links to clips from several of my films.
Projects
I am currently completing a second interactive ethnography on the Maasai whom I filmed in 1980. The work concentrates on traditional dispute settlement, but my approach is epistemological and again offers the perspective of an older anthropologist evaluating the difficulties and successes of his younger self. My primary focus in the present year is the development of the Tanzania Field School in Applied Visual Anthropology, and finding sufficient funds so that my SF State graduate students can travel and work there without financial sacrifice. With my graduate students, too, I continue to analyze the process of culture jamming - the use of media in opposition to consumer / imperialist culture - and have worked towards the development of educational methods that use jamming techniques in other educational contexts such as AIDS education.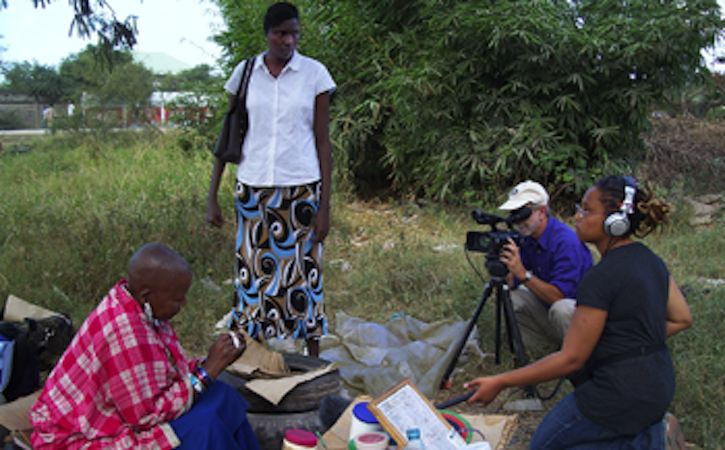 Peter Biella films a Maasai migrant bead worker in Dar es Salaam while Anthropology graduate student, Shamia Sandles, records sound. Standing in the background is Rose Tureto, their filmmaking collaborator and the leader of a Maasai-led NGO.