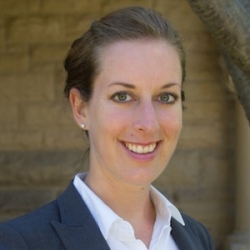 Meredith Reifschneider
Assistant Professor
MA Program Coordinator
Phone: (415) 405-2839
Email: mreifschneider@sfsu.edu
Location: FA 534 ON SABBATICAL FALL 2023
https://calendly.com/reifschneider_oh
I am a historical archaeologist whose research focuses on healthcare in colonial and post-colonial contexts. I joined the Anthropology Department at San Francisco State University in 2017, after completing my doctorate in Anthropology at Stanford University. My past and current research projects bridge the disciplines of archaeology, medical anthropology, and history. I also have professional experience in Cultural Resource Management and collections management.
Since 2016, I have conducted field research in St. Croix, US Virgin Islands, where my research focuses on the impacts of colonial healthcare systems on enslaved communities. This research was funded by the Wenner Gren Foundation and Stanford University. Published works on this project can be found on my academia page.
My current research project investigates the intersections between US Army Medical Department regulations and soldier's self-care practices at the Presidio of San Francisco. This collections-based project focuses on 19th to early 20th century artifacts recovered from the former enlisted soldier's barracks. This interdisciplinary, collaborative project is funded by the Presidio Trust and the SF State Presidential Fellowship. The project is also available to SF State students and community volunteers through an academic internship program. Results from this project will be available in my forthcoming book, titled "The Archaeology of Medicine and Healthcare" (University Press of Florida, 2021).
I have developed collaborative relationships with campus and community partners, to include the Global Museum and Museum Studies at SF State, as well as the Veteran's Curation Program, Golden Gate National Recreation Area, and the Presidio Trust. I am an active member of SF State's Science, Technology, and Society Hub and am currently developing a short film on the Presidio project.  
Classes Taught (SF State)
ANTH 110: Introduction to Archaeology 
ANTH 460: Historical Archaeology 
ANTH 592: Archaeological Methods 
ANTH 594: Zooarchaeology 
ANTH 721: Graduate Seminar in Archaeology 
Website(s):