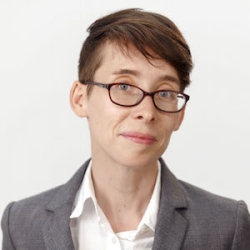 Martha Lincoln
Assistant Professor
Internships, Scholarships, and Career Advising
Email: mlincoln@sfsu.edu
Location: FA 521
Book Appointment: 
Biography
I am a medical and cultural anthropologist. Prior to joining the Anthropology Department at SF State in 2017, I received my Ph.D. from the Graduate Center of the City University of New York and completed a postdoctoral fellowship at the Prevention Research Center, affiliated with UC Berkeley's School of Public Health.
Since 2008, I've conducted field research in Vietnam on the public health effects of political and economic transition and on the cultural landscapes of late socialism. This work has been supported by funding from the Social Science Research Council and IIE Fulbright. I've published research on Hanoi's informal sector, on stratification and deregulation in health care provision, and on the politics of urban infectious disease outbreaks. My book Epidemic Politics in Contemporary Vietnam: Public Health and the State is forthcoming from I.B. Tauris.
My current project is based in the United States. With the support of a Marcus Early Career Research Award from SF State's College of Liberal & Creative Arts and a Scholars Award from the National Science Foundation, I'm studying medical crowdfunding for cancer.
Since the beginning of the novel coronavirus pandemic, I've commented in local, national, and international media on the political and cultural dimensions of COVID-19. I've also published opinion essays on pandemic matters in Nature, The Hill, and Le Grand Continent.
With Laura Mamo of the Health Equity Institute, I'm a co-director of SF State's Science, Technology, and Society Hub. I'm also a member of the editorial collective at Somatosphere, a weblog dedicated to medical anthropology, science and technology studies, cultural psychiatry, psychology, and bioethics.
I advise M.A. students with research interests in cultural and medical anthropology. However, as of Spring 2021, my advising roster is full and I am unable to accept new M.A. students. Prospective applicants may contact me to discuss applications for Fall 2022.
Forthcoming Publications
Epidemic Politics in Contemporary Vietnam: Public Health and the State. Forthcoming from I.B. Tauris (Bloomsbury).
"Necrosecurity, Immunosupremacy, and Survivorship in the Political Imagination of COVID-19."Forthcoming in Open Anthropological Research.
"Biopower in Transition: The Politics of Poverty in Vietnam." Forthcoming in the Journal of Vietnamese Studies.
Review: Sovereign Necropolis: The Politics of Death in Semi-Colonial Siam by Trais Pearson. Forthcoming in Social History of Medicine.
Review: Viral Economies: Bird Flu Experiments in Vietnam by Natalie Porter. Forthcoming in Journal of Vietnamese Studies 16, no. 2: 104-107.
Recent media appearances
Allday, Erin. 2021. "A Year in the Pandemic: How We Failed, How We Adapted, and What Lies Ahead." SF Chronicle. March 14.
Yong, Ed. 2020. "Where Year Two of the Pandemic Will Take Us." The Atlantic. December 29.
McNeil, Donald. 2020. "The Long Darkness Before Dawn." New York Times. November 30.
CNN. 2020. "Fareed's Take: The Cost of American Exceptionalism." Global Public Square. September 20.