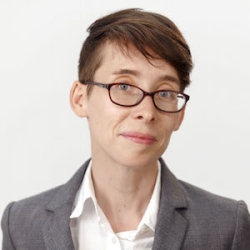 Martha Lincoln
Assistant Professor
Career Resources and Student Engagement
Email: mlincoln@sfsu.edu
Location: FA 521
Book Appointment: 
Biography
I am a medical and cultural anthropologist. Prior to joining the Anthropology Department at SF State in 2017, I received my Ph.D. from the Graduate Center of the City University of New York and completed a postdoctoral fellowship at the Prevention Research Center, affiliated with UC Berkeley's School of Public Health. Broadly, my research addresses the cultural politics of public health, biopolitics, and the effects of political economic change on health systems and health outcomes. I advise M.A. students with research interests in cultural and medical anthropology.
Since 2008, I've conducted field research in Vietnam, with projects supported by the Social Science Research Council and IIE Fulbright. I've published research on Hanoi's informal sector, stratification and deregulation in health care provision, the ghosts of war, alcohol use and drinking cultures, the redefinition of poverty under late socialism, and urban cholera outbreaks. My book, Epidemic Politics in Contemporary Vietnam: Public Health and the State, was published in 2021 by Bloomsbury Academic.
My current project is based in the United States. With the support of a Marcus Early Career Research Award from SF State's College of Liberal & Creative Arts and a Scholars Award from the National Science Foundation, I'm studying affective economies in medical crowdfunding for cancer.
My comments on the cultural and political drivers of the COVID-19 pandemic have appeared in articles in national and international media including the BBC, The New York Times, and The Atlantic. I've published opinion essays on pandemic matters in Nature, The Hill, Le Grand Continent, USA Today, CNN, and Washington Monthly.
Recent Publications
2021. Epidemic Politics in Contemporary Vietnam: Public Health and the State. London: Bloomsbury Academic.
2021. "Necrosecurity, Immunosupremacy, and Survivorship in the Political Imagination of COVID-19." Open Anthropological Research 1: 46-59.
2021. "Global Health is Dead; Long Live Global Health! Critiques of the Field and its Future." BMJ Global Health 6, no. 7: e006648.
2021. "The Political Imagination of US Pandemic Deaths." Visualizing the Virus.
2021. Review: Viral Economies: Bird Flu Experiments in Vietnam by Natalie Porter. Journal of Vietnamese Studies 16, no. 2: 104-107.
Courses Taught
ANTH 120: Introduction to Social and Cultural Anthropology
ANTH 300: Foundations of Anthropology: History
ANTH 630: Medical Anthropology
ANTH 631: STEM and Social Justice
ANTH 715: The Craft of Anthropological Writing
ANTH 723: Seminar in Problems in Cultural Anthropology