Anthropology Grads Adreanna Rodriguez, Lucila Carballo Win Prestigious Awards for Thesis Films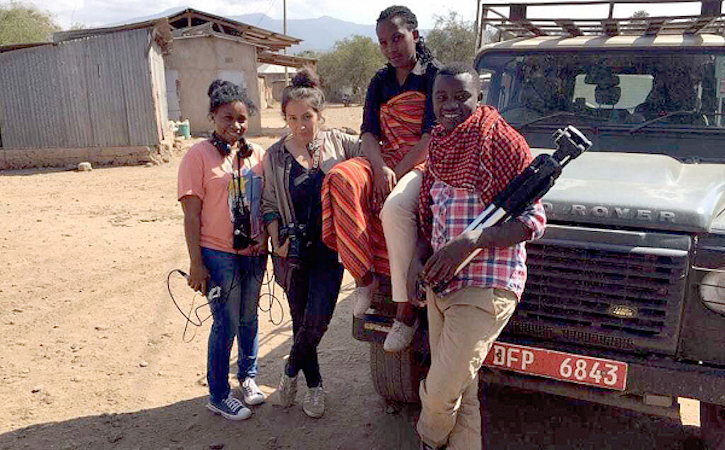 Adreanna Rodriguez and Lucila Carballo, both Master of Arts graduates in Anthropology in 2017, won major awards for their thesis films.
Rodriguez won the American Anthropological Association's 2018 Jean Rouch Award, one of its highest honors in visual anthropology, for her film Documenting the Impact. Carballo took first place in the Work in Progress/Genderlab category of MIC Género – Mexico City's International Film Festival of Gender — for her 90-minute thesis film, Idalia and the Niño Santo. Carballo will receive $26,500 in services from the Churubusco Studios in Mexico City, a week of advanced film training and the inclusion of her film in the 2019 MIC Género festival.
Lucila Carballo
In conducting fieldwork for Idalia and the Niño Santo, Carballo spent four summers and several Christmases in Oaxaca, working with a Mazatec mother and daughter. Both women are shamans who use hallucinogenic mushrooms in their healing ceremonies. The daughter, Idalia, also heals Mazatec women as a pregnancy counselor at a regional medical center.
As the film shows, Idalia moves between sacred and allopathic worlds of women's health. Her commitment to gender equality leads to profound confrontations with Mazatec patriarchal authority. While a graduate student, Carballo won several grants including the Jay P. Young Award for Anthropological Excellence.
Adreanna Rodriguez
Rodriguez is the first person in her family to receive a B.A. and an M.A. degree. She is a member of the Standing Rock Sioux tribe of Fort Yates in North and South Dakota; her mother is Native American, while her father is from Zacatecas, Mexico. She is also a former foster child.
As a storyteller, her research, writing and filmmaking skills revolve around issues of social and environmental justice for indigenous communities and gender-equality narratives. As a long-term goal, she hopes to continue to utilize participatory research methods and work closely with her tribe on social and environmental justice issues.
Rodriguez's documentary is about female pastoralists who document the impact of climate change through the use of participatory photography. She says the inspiration for her film is that, as an anthropologist, she has a responsibility to keep in mind the controversial history on which the discipline was built.
"I wanted to do more than just point my camera at people," she says, "so I decided to employ a participatory photography method that would give voice to the pastoral women I worked with."
Before winning the Rouch Award, Rodriguez won the Standing Rock Tribal Education Scholarship and book stipend for the duration of her degree program at SF State.
Rodriguez and Carballo both say working with Professor Peter Biella as their faculty mentor helped them to focus on the construction of their films. Biella (B.A., Cinema, '72; M.A., Cinema, '75) has years of experience working in the Maasai region.
Rodriguez is working on her next visual project in Lobéké National Park in East Cameroon for eight weeks, conducting a conflict analysis of the park's management and the indigenous Baka people. Her project revolves around issues of land management, conservation of the forest and wildlife resources, as well as controversial policies that are meant to assimilate and integrate the Baka into full citizenship.
— Ufuoma Umusu
Links
Video
Photo: Adreanna Rodriguez (second from left) in Tanzania.