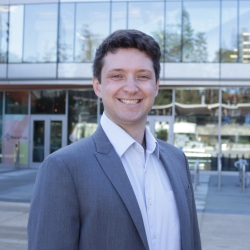 Christopher Lowman
Lecturer Faculty
Email: clowman@sfsu.edu
Location: FA 542
Christopher Lowman is an historical archaeologist and museum anthropologist whose work focuses on immigration, colonialism, and the history of science and law. His recent work includes an excavation and oral history project at Stanford University's Arboretum Chinese Quarters researching the lives of nineteenth century Chinese immigrants in California. He is interested in how current community collaborative work contributes to research design and interpretation, and engages with the fields of history of science and ethnic studies to question how immigrants formed community networks and navigated changing legal structures in the past.
Chris also works on the history of museums and the long-term effects of anthropological theories and collecting methodologies on public consciousness of world cultures. Chris is currently conducting a comparative study of United States museum collections from the Ainu, the Indigenous people of Hokkaido, Sakhalin, and the Kuril Islands. Collections like these have been a part of exhibits, publications, and presentations for over a century: how were they created, and how has that process continued to shape academic and public knowledge regarding Indigenous peoples?
Chris received his Ph.D. from the University of California, Berkeley in the Fall of 2019. He has conducted archaeological fieldwork at multiple sites in California, and participated on surveys and excavations in Turkey, England, Hawaii, and the British Virgin Islands. He has also conducted museum collections research in Washington, DC, New York, Boston, Chicago, Milwaukee, Vancouver, and in Japan. He continues to work for the East Bay Regional Park District archiving and cataloging historical and archaeological materials from Contra Costa and Alameda Counties.